As the COVID pandemic broke open quite clearly, never has there been a greater need for innovation to treat psychological disorders. With the World Health Organization (WHO) declaring mental health disorders as the leading cause of disability worldwide – nearly a billion people are impacted by mental illness of some measurable type. In North America, Numinus Wellness Inc. (TSE: NUMI) (OTCMKTS: NUMIF) is leading the charge among public companies treating patients with emerging psychedelic medicine to ease the pain.
In June 2022, Numinus took a big step forward with the acquisition of Novamind Inc., a psychedelic medicine provider with a network of clinics and clinical research sites. The business combination created a sizable North American platform with clinic operations spanning 13 wellness clinics (2 clinics since consolidated post-acquisition) and segued the company into the U.S. market.
As we can see from the chart below, the total addressable market for psychedelic-assisted therapies (PAT) is exploding, according to Psych. The industry media and research firm expects the market size for PAT therapies to double between 2023 and 2024, before settling into a strong and sustainable double-digit growth trajectory.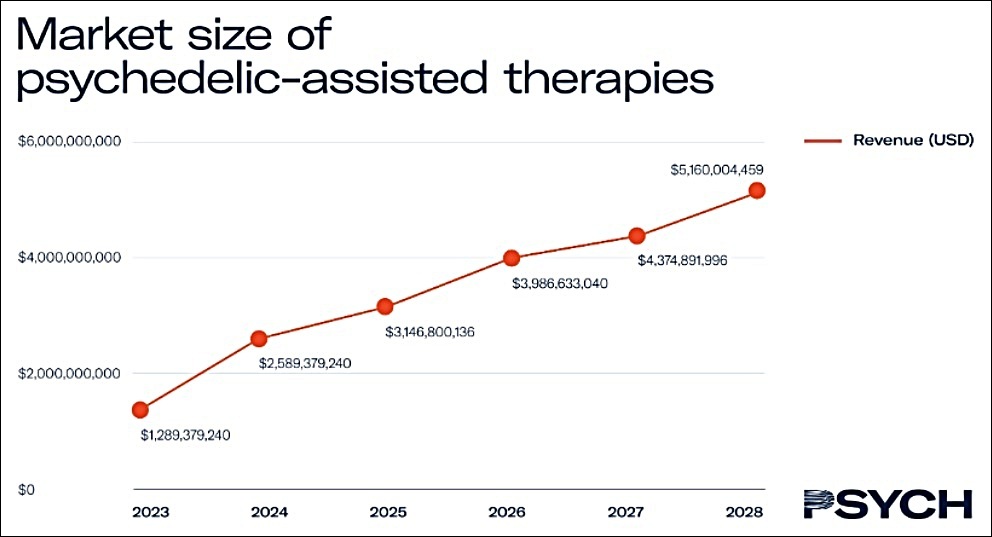 Due to scheduled drug legalities, Numinus' main psychotherapy offering involving scheduled drugs is ketamine-assisted therapy. However, the landscape and acceptance of new psychedelic drug is rapidly evolving.
As soon as late 2023, 3,4-methylenedioxy-methamphetamine—otherwise known as MDMA—could become the first classic psychedelic approved for medical use in the twenty-first century.
The Multidisciplinary Association of Psychedelic Therapies (MAPS) has completed data gathering in its second Phase 2 study for MDMA-assisted therapy for Post Traumatic Stress Disorder (PTSD) and expects to obtain FDA approval in late 2023.
Should this transpire, Numinus would receive federal regulatory sanction to itself administer MDMA, a generic psychedelic drug, for therapeutic use in a clinical setting. The end result would be a significant diversification of client offerings and wider reach among patients and use cases.
Beyond 2023, psilocybin is expected to be regulated in 2025 in Europe, with the introduction of both medicines forecast to create a psychedelic healthcare market worth over £3 billion.
Apart from the abrupt increase in clinic scale, the Novamind acquisition propelled Numinus Wellness into a leadership position as a psychedelic clinical research organization (CRO). A CRO is a company that provides support to the biopharma industry by way of outsourced research services performed on a contract basis. A CRO may provide such services as biopharmaceutical development, biological assay development, commercialization, clinical development, clinical trials management and more.
As part of the Novamind acquisition, Numinus inherited a phase II clinical trial investigating psilocybin for major depressive disorder sponsored by the Usona Institute, as well as Novamind's participation in Mind Medicine's phase IIb randomized clinical trial investigating LSD for generalized anxiety disorder. With psychedelic drug development and research growing rapidly, the expectation is that additional business is on the way.
In the fourth quarter of 2022, revenues from Cedar Clinical Research—the CRO arm of Numinus—totaled $0.5 million, accrued at CCR's two clinical research sites.
A Growth Story, However Patience Is Required
The best thing about investing in emerging stage growth sectors is also the worst thing about investing in emerging market stocks—they are extremely volatile and long-cycle to fruition. While the promise of outsized gains attracts many investors with long horizon investment horizons, there are plenty of valleys along the way. With the psychedelic sector, as illustrated by the Horizon Psychedelic Stock Index (PSYK) ETF, down 61.38% YTD, Numinus has not escaped the sector-wide downdraft.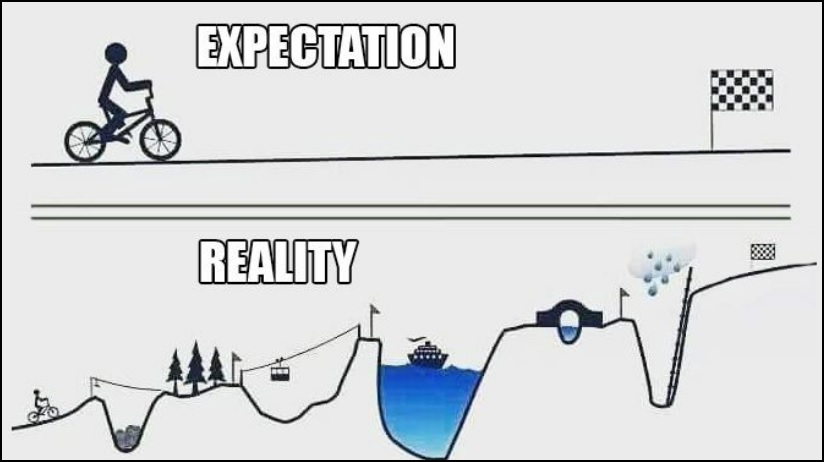 The psychedelic industry, whether viewed through the lens of drug development or outpatient clinic services, will take time to become profitable. Regrading the former, the first generation of psychedelic new chemical entity drugs are not expected to be approved until the end of 2026, which means several more years of onerous R&D costs for the patent holders.
On the clinic side, Numinus' path to revenue has come more quickly, as there is an immediate market for PAT outpatient services. We expect 2023 to be a building year as Numinus streamlines operations, reduces cash burn and improves margins on the clinic side. With likely enough cash to pull through 2023, we expect further regulatory advancements in PAT assisted therapy will aid top line revenue growth for Numinus beyond 2023.
As the psychedelic biotech and clinic services market matures, winners will emerge that will (hopefully) make the long-haul investment worth it for today's equity holders. Thus, 2023 should be a telling year for companies able to separate themselves from those without the capital, nor expertise, to survive in difficult and highly-regulated environments.
With a proven ability to navigate the latter and enough cash to survive the former, Numinus is on its way to becoming one of the sector's lasting success stories. (Full Story)